Watch this video of Governor Chris Christie by clicking on his photo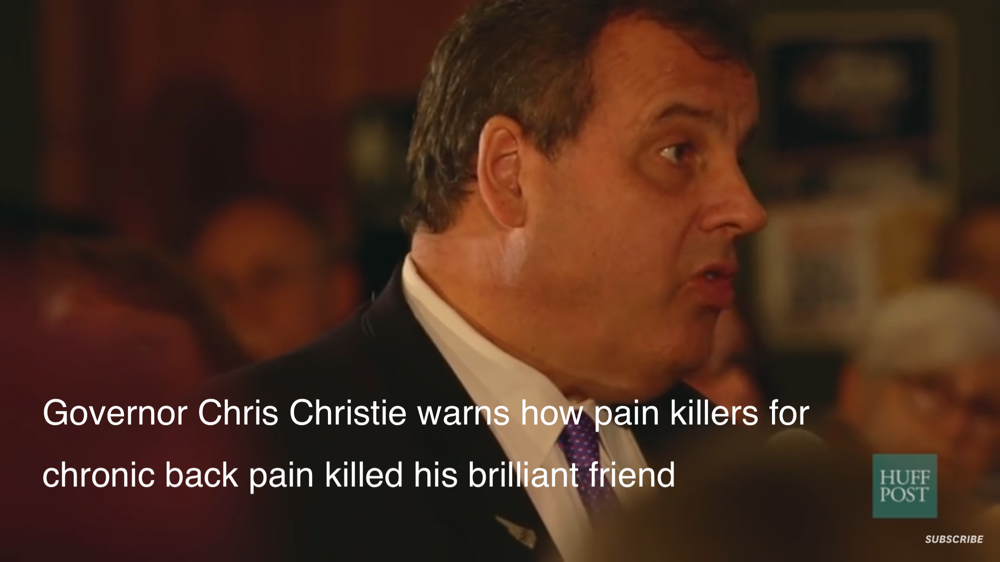 5th December 2017:
The dangers of painkiller addiction.
New York Governor Chris Christie explains:
July 4th
Severe, acute low back pain above and to the right of my sij, probably in my l5-s1 joint on the the right side.
Physio treatments of may were useless. Physio said it was a QL muscle sprain but the stretches and heat treatment he suggested, combined with his sullen, aggressive attitude and rough manipulation caused nausea and I don't willingly see him instead . Instead I found an old physio from a year ago who was good with a similar
acute flare-up. But he isn't available until 7th july.
Osteopathy of theee weeks ago had limited benefit. Had it a week ago for acute l5s1 area pain and felt better for a few days 
Now a lot worse and osteopath not available before I see physio on july 7th.
Going bonkers with pain.
17th May:
Visit to osteopath privately, while awaiting my Nhs physio appt. 
He says I have sprained ligaments while stretching during my house move and that my overactive si joint has contributed to this.
I am not sure he is right because when I did the same thing last year he said it was a disc strain.
He has yanked and cranked me.
He thinks fusion will probably help me but then he isn't the one who will be having it.
He likes the sound of Rialto compare to ifuse (Rialto fusion means I can walk from day one with weight bearing while ifuse requires crutches for six weeks.)
---
Friday May 12th 2017:

Setbacks!!!!    Had to move home and home office in last two weeks. The whole process has severely interrupted my fitness plans and also sprained  what seems like my L5/S1 disc in my lower back (based on what I did a year ago). Severe pain for last five days. Awaiting physio.
Meeting with si surgeon has been delayed for a second time in a week because I was in too much pain to make the two- hour journey. Si fusion that was recently scheduled for june 16th has probably been delayed after consultation with my GP until my disc pain has settled.
Severe pain can be so exhausting...:(
---
Sunday April 23rd:
The National Institute for Health and Care Excellence (NICE) has issued full guidance to the NHS in England, Wales, Scotland and Northern Ireland on Minimally invasive sacroiliac joint fusion surgery for chronic sacroiliacpain.
Evidence-based recommendations on minimally invasive sacroiliac jointfusionsurgeryforchronicsacroiliacpaininadults.This involves fixing the sacrum to the ilium using 2 or 3 metal implants.

---
Monday 17th April (day 4):
Ten lengths in the swimming pool done. Four miles of walking over the day (measured by my activity tracker), which includes an hour of light jive dancing.
Ten hours sleep by Monday morning 
On the downside : I am a large bar of chocolate - guessing hats around 20 syns with the Slimming World model. Hmm
Sunday 16th April 2017:
Today is day three of the count down to having spinal fusion in late May 2017:  the plan is that it will be fusion of my right sacroiliac joint (sij) using the si-lok technique. I also have prolapsed discs which hurt , too, but the surgeon - it's only taken me 16 years to find him - thinks these are causing acute pain while sij pain is chronic (started march 2001 - see my back story in the link towards the bottom

 of this page.
On day one (two days ago), I engaged Piyush, a personal fitnesss trainer, for an hour. All seemed pretty ok. It was quite hard and tiring. But otherwise ok.
On Day two: oh boy, all the muscles hurt. Not sure what's more painful, my dodgy spine or my various muscles. Spent most of the day collapsed on the sofa resting. I bloody hate resting!! Would rather be jogging, dancing, hanging out with friends, going to the cinema, dinner, playing sport, anything else. But my body says: no way!

As day three comes towards a close, I have competed some of those exercises from Piyush again, on my own this time, and am hoping my muscles won't have a fit about it tomorrow.
---
---